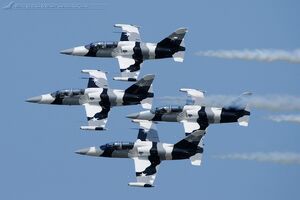 As the headline act for over 20 show sites and with more than 65 performances per year, the Black Diamond Jet Team delivers 30 minutes of thrilling air show excitement. The performance features a combination of precision formation acrobatics performed in our five arctic camouflage L-39s as well as high-speed, high performance maneuvers performed by our two opposing Mig-17 fighters. At times, all seven aircraft come together to demonstrate formation flying at its finest. Our pilots demonstrate unbelievable skill as they maneuver the aircraft only inches apart from each other.
The team's signature 30 minute headline performance includes the following maneuvers:
Diamond Loop flown with 4 aircraft inches apart
Diamond Clover Loop flown with 4 aircraft inches apart
"Make-A-Wish Roll" flown by 5 aircraft, consisting of the solo Mig 17 barrel rolling around the diamond formation
Diamond Roll flown with 4 aircraft inches apart
Tail Slide flown by a single aircraft demonstrating zero airspeed and tumbling back down to earth
Opposing passes, with two Mig-17s
Echelon, Belly and Banana photo passes
Formation changes in the middle of high-G maneuvers
Current Members
Lt. Colonel Jerry "Jive" Kerby, USAF (ret.) - Team Lead (L-39)
Jared "Rook" Isaacman - Right Wing (L-39) 
Doug "Tut" Demko - Left Wing (L-39)
Major Sean "Stroker" Gustafson, USAFR - Slot (L-39)
Major John "Slick" Baum, USAF - Dynamic (L-39)
Captain Dale "Snort" Snodgrass, USN (ret.) - Lead Solo (MiG-17)
Commander Mike "Buick" Eberhardt, USN (ret.) - Opposing Solo (MiG-17)
Lt. Col. Mike "Smitty" Smith, USAF (ret.) - Alternate Solo/Slot
Phil "Sniggy" Adornato - Support Team, Media Pilot & Saftey Observer
Mike "Bloke" Robinson - Support Team, Narrator, Life Supporter & Logistics
Carl "OPI" Falcione - Support Team, Narrator, Logistics & Avionics
Ryan "Sleeper" Fishel - Support Team, Support Plane Pilot, Logistics, Coordinator
Mark "Jet Guy" Hancock - Maintenance Team, Deputy Team Chief
Scott "Scooter" Yoak - Maintenance Team, Crew Chief
Kevin "Cowboy" Killian - Maintenance Team, Crew Chief
Joseph Sanders - Maintenance Team, Crew Chief
Aircraft
Edit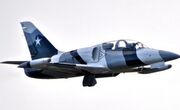 The Czechoslovakian L-39 was built as the successor to their earlier trainer, the L-29 Delfin. Design work began in 1966, and the first prototype made its initial flight on 4 November 1968. The idea of the design was to marry an efficient, powerful turbofan engine to a sleek, streamlined fuselage, resulting in a strong, economical performer which would become the next standard jet trainer for the Warsaw Pact. Full-scale production was delayed until late 1972 due to apparent problems with the design of the air intakes, but these difficulties were overcome and the type went on to be a great success with the Soviet, Czech and East German air forces, among others.
Three main variants were produced. The L-39C was built as a pure trainer and was used by numerous air forces throughout Eastern Europe beginning in 1974 and continuing through today. The armed weapons-trainer variant is called the L-39ZA, and a close-support and ground-attack version is called the L-39ZO. In addition to those mentioned above, the L-39 has been exported to numerous countries, including Afghanistan, Bulgaria, Hungary, Romania, Iraq, Libya, Estonia, and Kyrghyzstan. A modernized derivative of the Albatros, the L-59, is still being built in the Czech Republic. Another modernized, but very different version, the L-39MS, actually has much more in common with the L-59 than the L-39, despite its designation.
As of this writing, the L-39 is the most popular jet warbird in the world, with over 300 believed to be actively flying in the USA alone.
Specifications:
Engine: One 3,792-lb thrust Ivchenko-Progress AI-25-TL (also built under Czech license by Motorlet).
Weight: Empty 7,340 lbs., Max Takeoff 11,618 lbs. (L-39ZO with four rocket pods)
Performance:
Maximum Speed at 19,600 ft: 485 mph (Trainer version, clean)
Maximum Speed at Sea Level: 435 mph
Ceiling: 37,730 ft. (Trainer, clean)
Range: 528 miles with internal fuel; 995 miles with external tanks. 
Armament (L-39ZO): Up to 2,425 pounds of weapons on four underwing hardpoints, including bombs, 57- or 130-mm rocket pods, gun pods, a five-camera reconnaissance pod, or two fuel drop-tanks. Centerline point carried a pod-mounted 23-mm twin-barrel GSh-23 cannon with 180 rounds.
Mikoyan-Gurevich MiG-17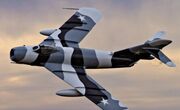 Ad blocker interference detected!
Wikia is a free-to-use site that makes money from advertising. We have a modified experience for viewers using ad blockers

Wikia is not accessible if you've made further modifications. Remove the custom ad blocker rule(s) and the page will load as expected.